Resurgence of the Yellow Peril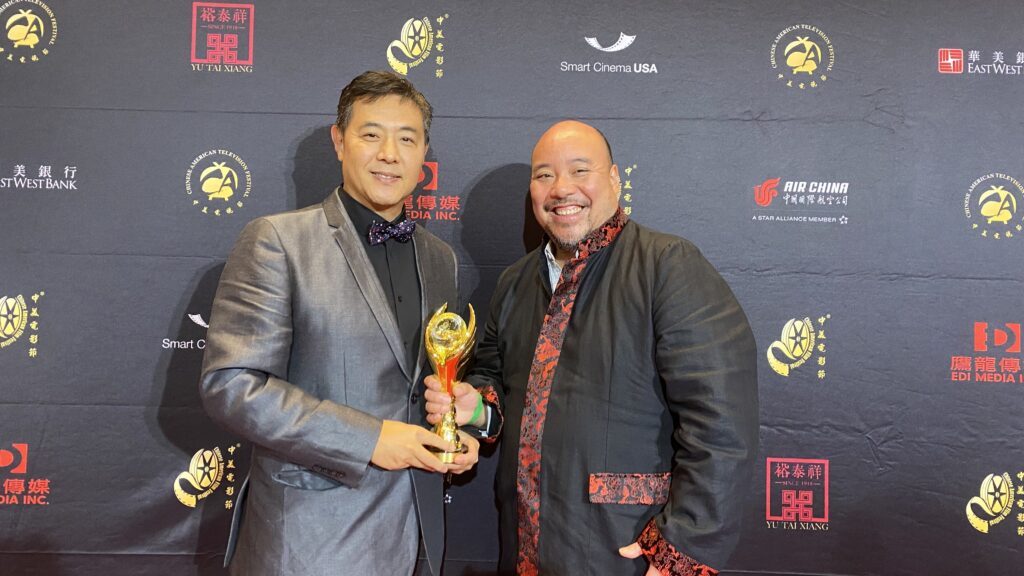 The Race Epidemic documentary has been awarded the prestigious Golden Angel for "Best Documentary" at the 17
th
annual
Chinese American Film Festival.
Top 10 features are selected and awarded with the Golden Angel, named after the City of Los Angeles.
This year there were over 600 selected films from U.S. and China competing and The Race Epidemic was chosen as one of the top 10 awarded films.
The Race is a project of Asian Pacific American Leadership Foundation (APALF), a 501(c)(3) nonprofit organization
A STORY THAT NEEDS TO BE TOLD
The Race Epidemic is about another outbreak caused by COVID-19.  An epidemic of hate based on race against Asian American and Pacific Islanders (AAPIs). With a politicized pandemic sweeping through the country and a former President calling it the Chinese Virus, the rise of attacks and hate against AAPIs is not surprising.
Can naming a virus after an innocent ethnic group cause the outbreak of an epidemic of hate? Or is it something hidden deeper within American society? The film takes a close examination of xenophobia and racism against AAPIs caused by the COVID-19 pandemic.
The Race Epidemic is a significant film of our times as innocent AAPIs are being attacked and murdered on the streets.  It's time to act.  We can no longer be the silent minority. Our voice will not be silenced.
Ronald W. Wong, founder of the Asian Pacific American Leadership Foundation and President of Imprenta Communications Group, an award-wining public affairs, ethnic marketing, political consulting, and advertising firm, serves as producer & writer and oversees the fundraising and management of the entire project. Ron has been involved in politics and political campaigns for the past 35 years, working in President Clinton's Administration and for other leading elected leaders including California Governor Gray Davis, Speaker of the California Legislature Willie L. Brown, California State Senator Art Torres, and Los Angeles County Supervisor Ed Edelman, among many others.
A master storyteller, Ron is a recognized expert in politics, communications, and advertising targeting diverse communities, and has won nearly 100 awards for his creative work including the production of commercials, public service announcements (PSAs), and traditional and digital advertising. As a political appointee in President Clinton's Administration at the U.S Department of Justice Community Relations Service, he worked on hate crime policies, racial reconciliation, the President's Initiative on Race, and developed the "One America Dialogue Guide."
The Race Epidemic is the culmination of Ron's work in politics, social justice, and the political empowerment of diverse underrepresented communities for the last 35 years. Ron has been involved and committed to the civic and political engagement and empowerment of AAPIs for nearly four decades. 
Tony Shyu is a noted director and award-winning screenwriter. Tony serves as director & producer of The Race Epidemic. Tony spent many years in Asia creating award-winning commercials for major brands such as Avon, Volvo, and Visa. He won the Taiwan Times award, which is Asia's equivalent of a Clio award. The PSA he directed for API Vote starring George Takei, John Cho, and Constance Wu won the 2016 Videographer award.
He is also currently in production on an all-Asian American cast show for Bravo TV and in development for an all-Asian cast TV show for Netflix. His award-winning screenplay Macau Omen, has been translated into a novel and now is being developed into a feature film. His short film, Macau Twilight (2008) was an official selection at the BFI London Film Festival. Tony also wrote, directed and produced a feature film, Tequila Body Shots (1999), which was distributed by Lionsgate. 
Tony received his B.A. and M.F.A. in film from the renowned Art Center College of Design in Pasadena, which is known for creating visual story tellers. His classmates at Art Center included famed award-winning directors Michael Bay, Zack Snyder, and Tarsem Singh among many others.